The cadillac, also known as the trapeze table, offers superior adjustability and is a key component of a fully equipped facility. Sturdy and adaptable, the Cadillac's extensive range of applications makes it ideal for rehabilitation and athletic training..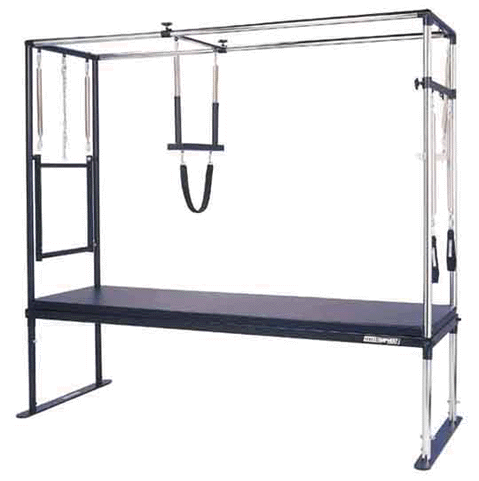 specs bed width 28" | height 83" | overall length 89" | weight 215 lbs | note: feet extend additional 4" on either side; some assembly required
standard features multiple spring attachments | 2 leg springs with padded straps | push-thru bar, 4 springs | maple roll-down bar, 2 springs | sliding bar with spring adjustments | trapeze bar, 2 springs | support strap | 1 pair fuzzy hanging straps | safety chain
The retail price for the Cadillac is $2,995 US. We do provide a professional discount -- if you think you might qualify, please email or call us for more information. Our toll free telephone number is 1-800-910-0001
to purchase: click here to enter STOTT store
©All material copyright STOTT EQUIPMENT SALES INC. 1998. All rights reserved.
This material, including photographs, may not be copied or used in any form without express permission from STOTT.