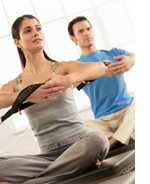 STOTT PILATES just made it easier for clubs to implement a quality pilates program with a lightweight, high-performance Reformer that's built to last — the new Group SPX Reformer.

Designed for facilities with high expectations for their multi-purpose group exercise rooms, the Group SPX Reformer offers unparalleled safety, durability and versatility. At only 100 lbs, it's a portable unit that stands its ground by facilitating dozens of exercises, including cardio-based plyometrics, then converts quickly to a mat to deliver dozens more.

A solid, no-nonsense piece, the Group SPX is designed to withstand continual use. Plus, it accommodates a full complement of Reformer accessories to expand programming options and keep members motivated.

Featuring a higher carriage and longer rail-length than others in its class, the Group SPX handles members of all sizes and provides an uncompromisingly smooth ride with STOTT PILATES' signature patented rolling mechanism.


| | | |
| --- | --- | --- |
| Shoulder rests lock in place and detach for ease of storage and when converting for Matwork™. | Adjustable four-position footbar drops easily into cradles to regulate hip and knee flexion. | Gearbar slots into three different positions to adjust tension easily. Springs secure quickly and safely. |
When stacking, shoulder rests slide conveniently into brackets affixed to the frame.

Stack Reformers 6-high one directly on top of the next, without spacers. A sturdy rolling base (max 5 high) makes moving effortless.

Reinforced pulley bars detach and store for stacking without disengaging ropes.

Available in six standard or more than 70 custom upholstery colors. Frames can also be made in a variety of colors to suit your space. Or choose our chrome upgrade package (chrome pulley bars, shoulder rest handles and gearbar).
Equipped with

5 Reformer springs
4 x 100% + 1 x 50% tension
soft Reformer loops & ropes
3 gearbar positions
6 carriage stopping positions
3 headrest positions
4 footbar positions
detachable shoulder rests
easy-roll wheels
secure spring housing system

Dimensions

overall width 22"
overall length 97"
carriage height from floor 9"
weight 100 lbs