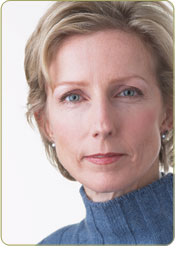 Moira Merrithew
Executive Director, Education
In 1984, after hanging up her pointe shoes to nurse a foot injury, Moira Merrithew went to New York City to study the pilates method with Romana Kryzanowska at the original studio founded by the late Joseph H. Pilates.

Ms. Merrithew had been a principal dancer with City Ballet of Toronto for seven years. She was introduced to pilates through the Dancer in Transition Center in Toronto, where she was the Center's first grant recipient. She spent two years studying, apprenticing and working with clients under Ms. Kryzanowska's close scrutiny before being certified by her. She then returned to Toronto in 1988 to open the STOTT PILATES* Studio with business partner and husband Lindsay Merrithew.

A bulging disk in her neck prompted Ms. Merrithew to study anatomy and exercise science. She then took this knowledge and applied it to pilates, collaborating with physical therapists and sports medicine professionals to modify the exercise system she had learned in New York.

A team of fitness professionals, under the direction of Moira Merrithew, has spent more than a decade refining the method of exercise to include modern principles of exercise science and spinal rehabilitation to make it safer and more effective. This clear and detailed approach, known as STOTT PILATES – the contemporary approach to the original works of J.H. Pilates – forms the basis for STOTT PILATES Training and Certification programs offered at the STOTT PILATES International Certification Center in Toronto and at licensed STOTT PILATES facilities worldwide. To date, more than 2,000 students have completed STOTT PILATES training.

Ms. Merrithew is a faculty member of the American Council on Exercise and the author of numerous technical manuals and published articles. She is also a sought-after presenter and media personality. Ms. Merrithew and her work are featured in the acclaimed STOTT PILATES video series – the most comprehensive instructional video collection of its kind.

Born in England, Ms. Merrithew moved to Bermuda at a young age where she trained at the Russian School of Ballet. She graduated from England's renowned Ballet Rambert before immigrating to Canada in 1976.

STOTT PILATES was founded in 1988 with a mission to promote the benefits of mind-body fitness worldwide. STOTT PILATES, a subsidiary of Merrithew Corporation, is the only full-service organization of its kind, providing pilates education, videos and equipment worldwide.

---

Click for bio:


Lindsay G. Merrithew


Moira Merrithew